Lebedev, Vladimir. Russian placards, 1917-1922.
Dartmouth College Library
Hanover, NH 03755, USA
---
---
[Click on Images Below to Enlarge.]
---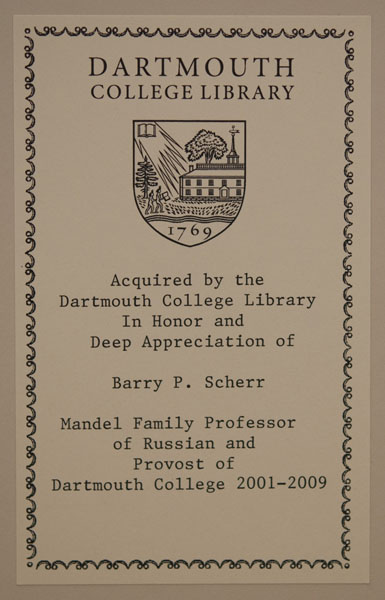 DARTMOUTH
COLLEGE LIBRARY
Acquired by the
Dartmouth College Library
In Honor and
Deep Appreciation of
Barry P. Scherr
Mandel Family Professor
of Russian and
Provost of
Dartmouth College 2001-2009
---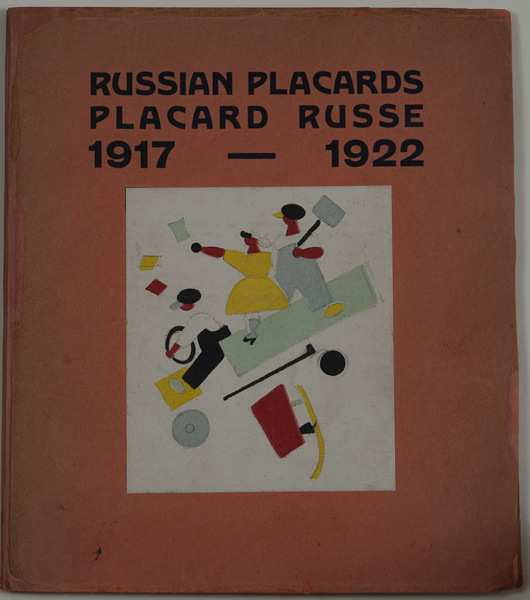 RUSSIAN PLACARDS
PLACARD RUSSE
1917 — 1922
---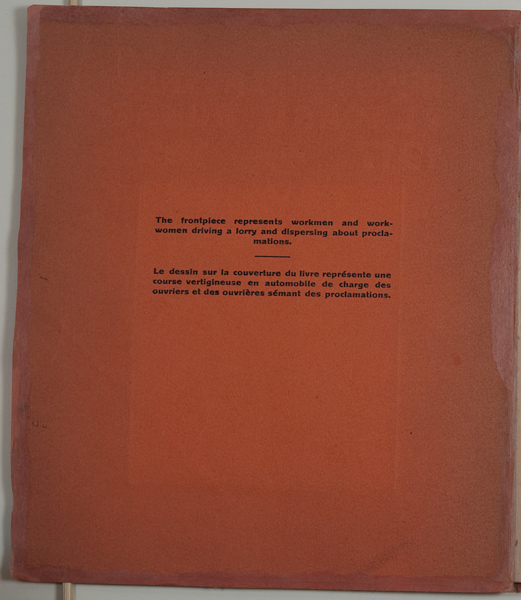 The frontpiece represents workmen and workwomen
driving a lorry and dispersing about
proclamations.
Le dessin sur la couverture du livre représente une
course vertigineuse en automobile de charge des
ouvriers et des ouvrières semant des proclamations.
---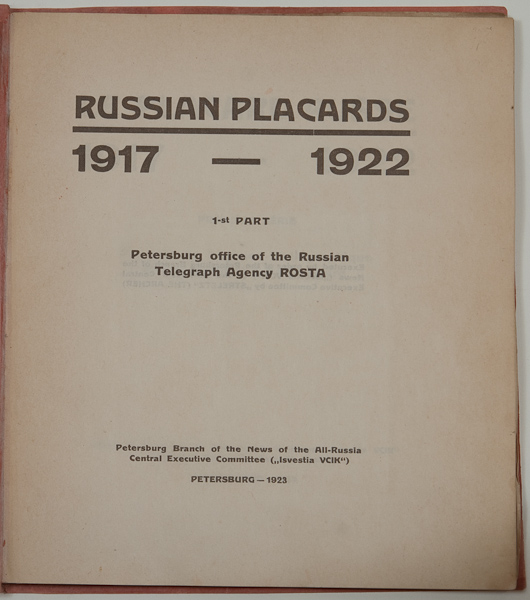 RUSSIAN PLACARDS
1917 — 1922
1st Part
Petersburg office of the Russian
Telegraph Agency ROSTA

Petersburg Branch of the News of the All-Russia
Central Executive Committee ("Isvestia VCIK")
PETERSBURG — 1923
---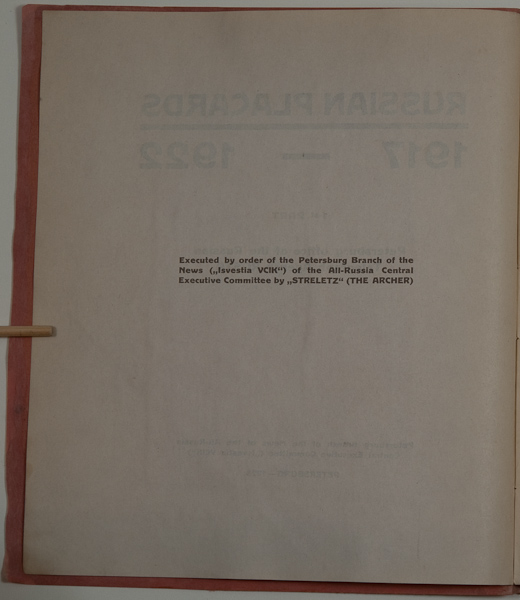 Executed by order of the Petersburg Branch of the
News ("Isvestia VCIK") of the All-Russia Central
Executive Committee by "STRELETZ" (THE ARCHER)
---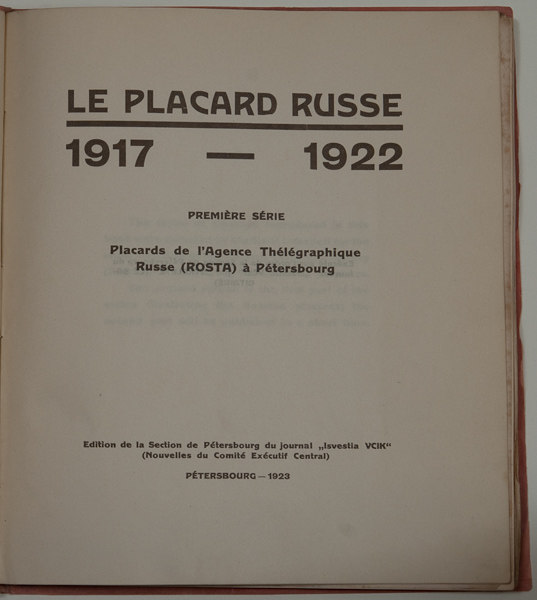 LE PLACARD RUSSE
1917-1922
PREMIÈRE SÉRIE
Placards de l'Agence Thélégraphique
Russe (ROSTA) à Pétersbourg
Edition de la Section de Pétersbourg du Journal "Isvestia VCIK"
(Nouvelles du Comité Exécutif Central)
PÉTERSBOURG —1923
---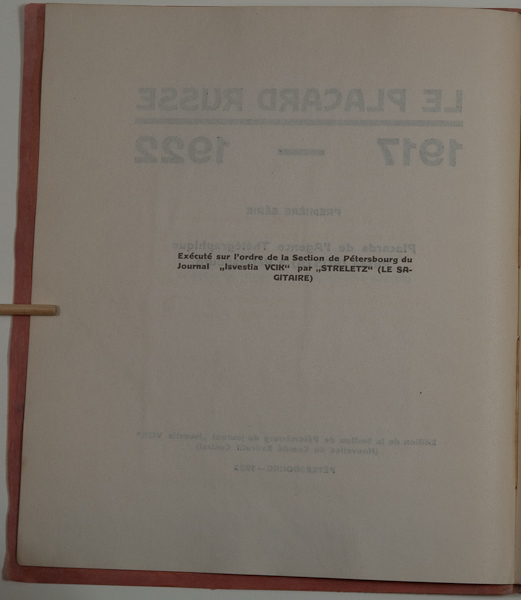 Exécuté sur l'ordre de la Section de Pétersbourg du
Journal "Isvestia VCIK" par "STRELETZ" (LE
SAGITAIRE)
---
The series of placards reproduced in this
book were executed by Wladimir Lebedeff for the
show-windows of the Russian Telegraph Agency
(ROSTA) in Petersburg for agitation purposes.
The present edition is the first part of the
series illustrating the Russian placards; the
second part will be published in a short time.
---
---
La série de placards publiés dans ce livre
a été exécutée par Wladimir Lebedeff pour les
vitrines de propagande de l'Agence Thélégraphique
Russe (ROSTA) à Pétersbourg.
Cette première livraison de placards sera
suivie d'autres exécutées d'après un autre plan.
---
Петрооблит No. 7412 Отпеч. 1700 әкз. Зак. 543
Гос. тип. им. Еагении Ϲоколовой (быв. 26-я). Петроград, Измайловский пр., 29
---
---
A workman with a wheelbarrow full of rubbish
(agitation for the rise of the capacity of work).
Un ouvrier avec une brouette pleine d'ordures
(propagande pour l'augmentation de la productivité du
travail).
---
---
---
---
The first foreign merchant ship (english) in the port
of Petersburg; a buoy with a red flag on it is out in
the sea.
Le port de Pétersbourg avec le premier navire de
commerce (anglais); on y voit aussi le drapeau rouge
fixé sur la bouée.
---
---
---
---
Baron Wrangel departing from Crimea; the red
sword can be looked upon as a phantom pursuing
him.
Départ du général Vrangel de la Crimée: le sabre
rouge peut-être interprêté comme une vision qui
poursuit Vrangel.
---
---
---
---
The lamentation of the Entente.
Les lamentations de l'Entente.
---
---
---
---
A workman sweeping the criminal elements out of
the Republic (work-control).
Un ouvrier balayant tout élément criminel hors
de la République (control ouvrier).
---
---
---
---
Productive propaganda. A caster with a casting spoon
in his hands, a mould in the left corner.
Propagande de la productivité du travail; le tableau
représente un ouvrier de fonderie sa cuiller à la main.
A gauche on voit un moule.
---
---
---
---
The Entente gives suck to Koltchak. Entente—a puppit
decorated with a garland and the Tower of Eiffel,
the latter with British and French flags on It.
Koltchak in a three-cornered a pistol case on his back.
L'Entente allaitant le géneral Koltchak. L'Entente en
marionette, coiffée d'une couronne et de la Tour
Eiffel pavoisée de drapeaux anglais et français.
Koltchak, coiffé d'un tricorne, l'étuit à révolver au
dos, suspendu au sein de l'Entente.
---
---
---
---
The workmen's procession on the first of May.
Maniféstation ouvrière du 1-er Mai.
---
---
---
---
Agitation for utilizing the bourgeoisie for proletarian
purpose. The bourgeois in a grey top-hat and apron
waits upon the workman (feeds him with fish).
Propagande de l'utilisation de la bourgeoisie par le
gouvernement prolétaire. Coiffé d'un haut de forme
gris un tablier à la taille le bourgeois sert du
poisson à l'ouvrier.
---
---
---
---
Agitation for work-cooperation. The workman stands
triumphantly before the implements of industry; at
his feet lies a marauder vanquished by the system
of cooperation.
Propagande de la coopération ouvrière. L'ouvrier
vainqueur s'élève au dessus des machines. On voit
à ses pieds le maraudeur vaincu par le système
coopératif.
---
---
---
---
The struggle against epidemics. In the upper right
corner a militia-man is chasing an ice-cream seller,
who threw away his box; below are implements
for making ice-cream and refreshments: two bottles,
a spoon, an ice-cream mould lid, a fragment
of the box and two portions of ice on paper.
La lutte contre les épidémies. A droite et en haut
un milicien poursuit un vendeur de glaces qui a
abandonné sa boîte; en bas du tableau on voit
les ustensiles du commerce du glacier-limonadier:
deux bouteilles, une cuiller, un couvercie de
glacière, des débris de boîte, deux portions
glaces dans du papier.
---
---
---
---
Two workmen with their industrial implements, at
the feet of the first figure a piece of calico. The
meaning of the placard being: if there will be the
necessary implements of industry, there will be
manufacture as well.
Deux ouvriers munis de leurs instruments de travail;
aux pieds de la figure de droite on voit un morceau
de percalle. Le sens de ce placard est tei: ce n'est
qu'à condition d'être pourvu des outils nécessaires
qu'il est possible d'obtenir les produits.
---
---
---
---
A marauder at a stall with wares (the struggle
against sale in the streets).
Maraudeur à son échoppe (la lutte contre le commerce
de rues).
---
---
---
---
A workman with nationalised entreprises in his
hands.
L'ouvrier tient dans ses mains les entreprises
nationalisées.
---
---
---
---
A bourgeois tearing his hair on account of the second
meeting of the International Congress.
Le bourgeois s'arrachant les cheveux à l'idée de la
2-me assemmblée du Comité International.
---
---
---
---
A work-woman. (Raising productivity through joining
together small hand-working and trade
industries).
Une ouvrière cordonnière (par rapport à l'accroissement
de la productivité du travail dûe à l'organisation
des petites industries rurales).
---
---
---
---
The new bourgeoisie In the Republic of labour
(threat to the proletarian State).
La nouvelle bourgeoisie de la République prolétaire
(nouveau danger qui menace l'Etât prolétaire).
---
---
---
---
From the series of "Rosta ten commandments" (agitation
for struggle against theft and drunkeness).
Ce placard fait partie de la série intituiée "Le décalogue
de ROSTA" (propagande de la lutte contre
le gaspillage et l'ivrognerie).
---
---
---
---
Agitation for the closing of markets—"the marauder
in heaven and the simpleton in hell". The placard
represents an owner of a market—stall sitting in a
grand house at a table with provisions and a gramophone
standing on it, while a starving citisen
under the table is defending the markets.
Ce placard est consacré à la propagande de la clôture
des marchés ("le maraudeur au paradis et les
moutons en enfer"). Il représente un accapareur
(koulak) assis à table sur laquelle se trouvent
différents comestibles; l'entourage est bourgeois,
Il y a même un grammophone, tandis que sous la
table git un pauvre bourgeois affamé faisant la
guerre à la clôture des marchés.
---
---
---
---
The Red Army and Navy defending Russia's borders.
L'Armée et la Flotte Rouge à la défence des
frontières russes.
---
---
---
---
Workman's triumph.
L'apothéose de l'ouvrier.
---
---
---
---
The union of village and town (workman and
villager).
L'union du village et de la ville (ouvrier et paysan).
---
---
---
---
The red vision of Communism is brushing over
Europe. The placard represents the bourgeois saving
themselves from two workmen.
Le fantôme rouge du communisme plane sur l'Europe.
Ce tableau représente deux ouvriers que les
bourgeois fuient pris de panique
---
---
---
---
---