This morning, while clearing a powdery foot of snow off my driveway, I made one of the minor* mistakes of snowblowing. I forgot to check for the newspaper, and when I pushed the snowblower over it, up through the chute went strips of newspaper. With all of the bad news this year, it was a delightfully liberating experience.
As calendar year 2008 winds down, you may be wondering what you can do to make 2009 and 2010 better than 2008. I have a small suggestion: Donate to Charlie Wheelan's campaign to fill the House seat vacated by Rahm Emanuel. Here is the beginning of the campaign e-mail:
Dear Friends, Supporters, and Spies from Other Campaigns,
We've been at this for about a month now, and who could have predicted the turns that the campaign would take. The sad fact is that our pathetic governor has completely changed the dynamics of this race. When I first began to tell people that I was running, they would invariably ask, "Who is 'the Machine' supporting?"
No one asks that anymore.
In fact, right after the Blagojevich scandal broke, Congressional Quarterly quoted an Illinois political commentator as saying, "This could actually be good news for the people of the district. It creates an opportunity for a candidate who's squeaky clean — who's an outsider in terms of machine politics in the city and state — to have a shot at the seat."
We are well on our way to making that happen. As most of you know, Pat Mogge (who ran the Dan Seals campaign in the 10th District and is also a former student of mine) is running the campaign. We have strong and growing fundraising and field operations. Our most recent news is that we've just signed a contract with North Woods Advertising for media and strategy work. They are famous for a remarkably creative campaign that put Paul Wellstone (another former professor) in the Senate. They also did work for Jesse Ventura, with whom I arguably have less in common.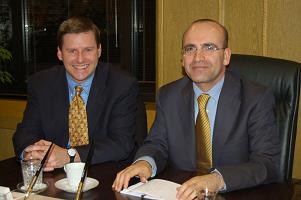 The campaign would be easier if I were not in Turkey for the next week. I teach an international policy course that is visiting Istanbul and Ankara; we're meeting with business leaders, journalists, politicians, and other thought leaders. On the right, you'll see me with Mehmet Sımsek, Turkey's Minister of Economy. We have a briefing at the U.S. Embassy today. We've gathered on-the-ground information on everything from the future of Iraq to the role that Turkey has been playing in negotiations between Syria and Israel. These issues matter, and I'm the only one in the race who has this kind of international experience—in Turkey, but also in the Middle East, Latin America, India, and elsewhere.
The world would be a better place with more people like Charlie serving in Congress. Follow the link to donate.
* This is the third type of mistake you can make when snowblowing. The first type is the catastrophic mistake, easily identifiable by blood on the snow, whether yours or someone else's. Catastrophic = damage to persons. The second type of mistake you can make is the major mistake, almost as easily identifiable by the sound of metal on metal or metal on rock. Major = damage to property.